Your Christmas Tree is a living,
organic plant and needs to be treated as such.
Real Christmas Trees, just like real flowers require a certain amount of care and attention to obtain maximum safety, enjoyment and longevity from them over the Christmas. Although Noble Fir, Nordmann Fir and LodgePole Christmas Trees are non shed it is important to realise that as living, organic matter, just like flowers they will dry out and die more quickly if they are not hydrated and cared for sufficiently. A dried out Christmas Tree is unattractive but a well watered, well cared for tree will retain it's beautiful fresh appearance. In the event of a fire it will not sustain combustion due to it's adequate hydration. We strongly recommend that you use a proper waterstand, available in our shop and follow our storage and preparation guidelines below for a safe and healthy Christmas Tree. Storage and preparation guidelines to help you get the most from your tree this Christmas.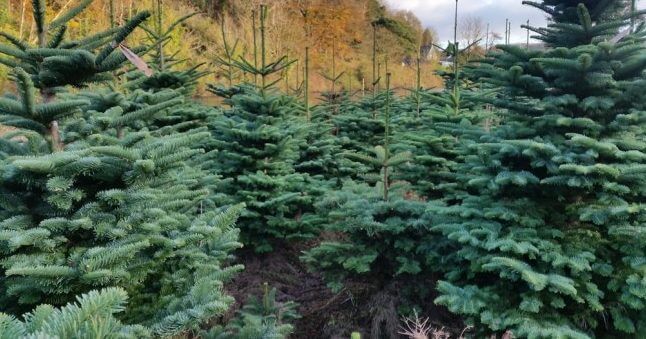 How to care for your Christmas Tree
Always place your tree away from a direct source of heat – radiator, open fire etc.
Leave your Christmas tree outside until you are ready to put it up and decorate
• Before standing your tree, carefully scrape the bottom of the trunk with a sharp knife. This will help it absorb water and stay fresh
Large trees require a pint of water a day for adequate hydration – either fill your stand with water and replenish as required or keep a large bowl of water near your tree
We sell water stands which are ideal for keeping your tree hydrated.
Unplug tree lights before watering the tree, before going to bed and whenever the tree is unattended
Leave adequate space around your tree to avoid hitting off it once decorated. This will ensure that it retains its needles for longer
Don't have the plug behind the trees you will have to come in contact each time you turn lights on or off